Discover more from Lou O'Reilly takes out the trash.
An irregular and mixed bag newsy about how cooked the wellness industry is, and how to keep yourself safe from its hundred billion dollar claws.
What to wear for exercise
A run down of size inclusive fitness clothing brands and how much they cost.!
What are you supposed to wear for exercise?
Whatever you want.
Really. Wear whatever you want that is comfortable for you to move in. It is that simple.
Thinking of all the barriers to exercise that are real or ones we invent to protect ourselves from the unknown, clothing is actually pretty high on the list. Because we are bombarded with hundreds of brands, with hundreds of purposes and it is head-spin worthy. Compression. Squat-proof. Moisture-wicking. (What is a wick?) High-waisted, butt-lifting, booty-popping for crying out loud. Please make it stop. And that's just the bottom half. What do I wear up the top. What sort of bra do I need? Will I get too hot in a tee shirt?
Will people look at me? Yes and no. That topic is coming up next.
After 22 years of gym going through my life (still fat, lol) with varying sense of belonging and confidence, I wanted to share with you the sorts of leggings I've worn and tried out including popular activewear brands and whether they are worth the $$$ or not, but first, here are what some terms mean and why they might be important to you.
---
What the words mean
High-waisted leggings = leggings where the waistband sits high over your tummy so it doesn't cut you in half. All of my leggings for work or personal workout sessions are high waisted. The higher the better.
Compression = firm fitting leggings. I call it wet scuba gear because it can be as hard to get on, but once it's on - super comfortable as it is almost like a second skin. Compression is good for keeping muscles warm, avoiding chafing, and yes, moisture wicking.
Moisture wicking = a compression fabric that fits very tight and absorbs sweat which helps avoid chafing.
Squat proof = leggings that are of a thick enough fabric or a good enough quality so that when you squat down your underwear does not show through.
Slobbing = pottering around the house, making cups of tea, watching Netflix and so on and so forth. Not purposely exercising. Lying on the couch. Or staying in bed all day. Some people call it resting.
Compressionable = my word for how well compression tights work
---
The listicle of exercise clothing brands focusing on leggings. I have a whole other post on shoes and socks later on. Also, nothing has been given to me, nor has my opinion been paid for. The best is last, if you want to scroll down to the winner.
Plain shorts and singlet.
In 1998 I joined my first gym at Club Physical in New Lynn. I had two pairs of regular shorts that my Mum had bought me from Just Jeans about 5 years prior and a range of Elle McPherson singlets in "Grey Marle" colour. I wore a sports bra with zero support and some old running shoes. I was fine.
Size range: All sizes
Cost: $5 to $50
Verdict: Absolutely fine. Sweated through on everything but that is what a sweat towel is for. I don't think I'd considered how compression would be useful at this point.


Adidas trackies - or any other track pants
The trackies were excellent. I had a flatmate who worked for Adidas and he told me early on when the sales were on so I bought a couple of pairs and wore them till they had massive holes in them. These days, Adidas has moved to size inclusive and has about 11 thousand different types and honestly any of them you feel comfortable in would be great. Maybe not the satin pants though as even though they are pretty and are great for slobbing, not so great for getting sweaty in.
Size range: XS up to 4XL
Cost: $90 - $110
Verdict: Excellent for the gym, excellent for running (by this point I had started to run at my local park) and excellent for slobbing.


Various Instagram tights that say compression and squat proof when really they are not.
I have a drawer full of these which were super cheap and had those BOGO codes on them and I thought I was super cool for having funky looking tights. The size range is small. I got the biggest size they had and managed to only just squeeze a size 14 butt into them.
Size range: XXS to 2XL but the 2XL is about a size 14 so not inclusive at all. I'm putting on this list so you know that 2XL is not the standard 2XL fit.
Cost: $11 - $47
Verdict: Don't be tempted. The size is misleading, the claims are misleading. Buy an ugly Christmas sweater instead.


Cotton-on active leggings
Cotton-on do lots of different leggings, the ones I have tried are the active compressionable ones - I'm sure they have a proper name. They are budget friendly but not squat proof or compressionable. They are comfortable though, and are often on sale for $20.
Size range: XS to 2XL
Cost: $34.95
Verdict: Comfortable for slobbing in but I wouldn't wear them for lifting at the gym


Kmart Active women's ultra high waisted leggings are actually excellent, which isn't surprising as they seem to import good stuff these days.
Size range: XS to 2XL
Cost: $18
Verdict: Not all of the range are squat proof, not compressionable, they are high waisted and good for slobbing, though.


The Warehouse Active Intent High Waisted leggings have a drawstring to hold them up. Well in my pair they do. I bought them in lockdown and I don't know why. Possibly to cope with not being able to buy things in a regular fashion. Anyway, they arrived and they have a drawstring and I don't like drawstrings at the best of times, so I was disappointed. They are reasonably comfortable for slobbing.
Size range: XS to 2XL
Cost: $30
Verdict: Good for slobbing, not squat proof or as compression-able as I would like.


Aim'n tights annoy me because I don't know how to say the name properly. Is it aiming without the g? Personal pronunciation issues aside, I went to try these ages ago and was disappointed they only went up to a size 14 and a lot of my small bodied mates have them and love them. Seeing them now it appears they go up to a size 18-20, but I haven't tried them personally. I'm including them in this list because I know my Aim'n loving mates will read this and go "you left out Aim'n".
Size range: XS to XXXL which is like an 18-20
Cost: $100 - $115
Verdict: They have lots of different types of tights, some high waisted, some ribbed, I can't see any compression tights but they do say the ribbed ones feel like a second skin.


Exotica Athletica are an Australian based company with an extensive product range. Dresses, skirts, tops, togs, leggings.. so much stuff. I bought two pairs of its high waisted compression tights just before lockdown and I love them. They are very comfortable - actually wearing my navy pair now as I write this.
I buggered up the sizing, but that's my fault, so unfortunately they fall down at every opportunity. Maybe mine are about two sizes too big. They are squat proof, and they appear to be moisture wicking but I haven't worn them for actual exercise yet because of the fall down thing.
Size range: XS - XXL but the best bit is they do Made to Measure sizing. So if you fall outside of the XXL size, you let them know and they will hop on their machines and make you a pair in your size. This is the ONLY company I have found that will do this.
Cost: $85 - $120 (AUD)
Verdict: I love that they offer make to measure, I love that they offer maternity and kids sizes, and that they have super dooper high waisted leggings (bloody drawstring though) and I love that their tights are super smooth and comfortable. Size down though, as I think Australian standard sizing is different to NZ sizing.


Clique tights
Clique have been my life for the past two years. Clique is a NZ company owned by two sisters who are very smart women in business. I wear the black clique tights for work every day and they do exactly what it says on the can. Actual real compression - takes a minute or two to get on, squat proof, moisture wicking, also great for slobbing in but I choose others for my own personal slobbing. They come in short and long lengths for short and tall people. And they have extended their line to include a bag (I use this as my work bag for the gym), crop tops, shorts, tee shirts and sweatshirts.
Size range: US sizing so from a size 4 to size 14 which is an 8 to 18.
Cost: $90
Verdict: As I said before they have been my life for two years. However I wish they would extend the size range to be more inclusive. The latest Gen 3 version to come out is apparently super compressionable and I believe they are harder to get on, but would feel great once you did. I want them in Malibu colour.


Hine Collection.
I left the very best tights ever till last. I just got two pairs from the latest Winter collection and they are perfect. Perfect I tell you. They feel like Clique tights on but without the butt lifting seam which I quite like. My butt does not need to be lifted. I couldn't care less about butt lifting.
Compressionable, moisture wicking, squat proof, comfortable for slobbing, and high waisted. Also, they have pockets! Nice deep pockets for your phone to go in, and actually stay there when you squat or lift or do anything. I love that this company is run by two Māori women, but I love even more that they are size inclusive up to a 6XL. Thank you Hine Collection! You officially win my list as best tights in the world that I have tried and that is a lot!
Go to https://www.hinecollection.com/ to check out the range of leggings, bras, trackies, jackets, tee shirts.. huge range, you won't be disappointed.
Size range: XS to 6XL (8-24)
Cost: $90
Verdict: Perfect tights. 10/10 they win my listicle.
---
Recipe of the week
After quizzing my friends who know more than me about popular trendy foods, I am sharing a bloody amazing carrot cake recipe today. The trendy food in question is coconut sugar. I had no idea it was even a thing, but apparently it's been around forever and which rock have you been under Lou, was the response.
Anyway. Carrot cake is probably my top favourite cake ever, and because we use coconut sugar instead of the usual stuff, it means people who can't have usual sugar can still eat this. So what a great time to be alive, huh. Coconut sugar. Who knew? (Don't answer that).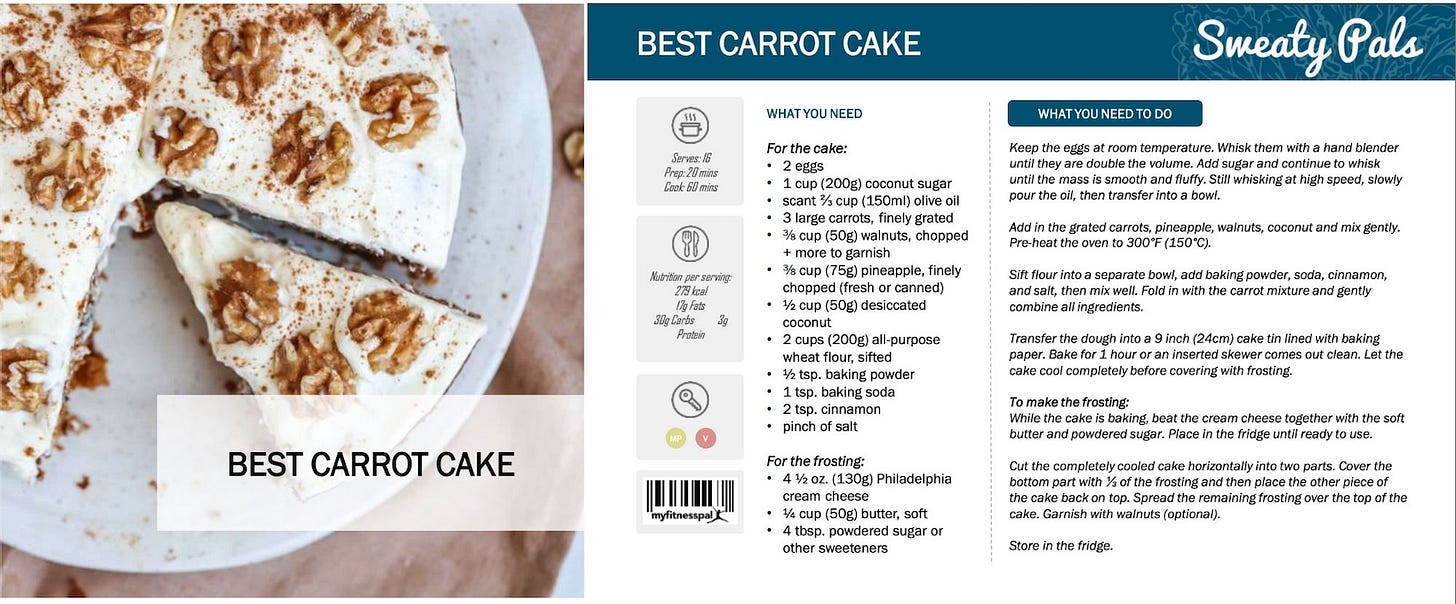 ---
Exercise of the week - exercises to do to get good at deadlifts
Last email I wrote about deadlifts and how they are the woman in charge of functional exercise. One thing I didn't tell you last week, is that when you start doing deadlifts and start feeling awesome after them, you might be spurred on to get better at them. And so this week's exercise of the week are the exercises to do to get better at deadlifts! Yay! Here's three things to practice.
Squats so that you can strengthen your upper and lower back, your glutes and your quads. This video shows you how to do a box squat, which is the first type of squat you could try before advancing to a body squat with no box to sit towards.
Leg press so that you can build your hip and knee strength up
Improve your grip strength. A farmers carry, loaded carry etc is where you carry two very heavy dumbbells or kettle bells a short distance. Improving your grip and wrist strength will help you to progress your deadlifts with heavier weight.
---
As always, thank you!
Thank you for supporting my work by reading, subscribing, and sharing. If you have a question about exercise or nutrition, please reply to this email or send to lou@sweatypals.nz.
Till next time,
Lou xx