Discover more from Lou O'Reilly takes out the trash.
An irregular and mixed bag newsy about how cooked the wellness industry is, and how to keep yourself safe from its hundred billion dollar claws.
I just want to lose, like, 5kgs.
The journey of a gym beginner and the magic that happens after, a recipe to bugger up, and some exercise, too.
Working with people new to a gym environment is hugely rewarding.
As I've written about here, all our new members are offered an orientation which yes, it is a tour of the gym so you can see all of what we have to offer, but it's also a chat about your goals. What would you like to happen? How can we help you achieve those goals.
Often, after I've asked "what would you like to happen?" The response is usually a version of "I just want to lose, like, 5kgs" Then they point to their belly area. "From here. I'd like to lose 5kgs from here"
Cool, I reply as casually as I can. And I'm trying to contain my excitement, because if going by previous experience, all the people who have told me they want to lose 5kgs from their belly and nothing else.. well, a change is about to occur and it is the most magical thing ever.
This change is one of the reasons I went into the PT industry, as I saw it in myself, and in friends who were like me.
This change takes between 2 and 4 weeks. Usually after the first orientation programme has become easier, and they start to move on to slightly more challenging workouts. When they start to feel comfortable in the gym. When they have found their sense of belonging. Enter, the change of goal.
Spoiler alert: It isn't losing five kilos.
You: I've increased my weights! I feel stronger! I take the stairs at work by choice!
Me: Well done, you! What would you like to do next?
You: Well, I'd really like to try that leg press where you lie down - it looks hardcore! Can I try the bench also? What about deadlifts? I'd love to give it all a go.
Me: Awesome. And yes. Let's go check those things out.
In many cases, the arbitrary 5kg loss at the start, has morphed into trying new equipment, lifting heavier weights, trusting knees and ankles not to be dorks, working out alone, upping frequency.. like nothing to do with the original 5kgs loss from the belly. I have three clients right now who do not give a single toss what the scale tells them. They feel healthier, they move better. The change is a joy, and I'm so proud and happy of all of my sweaty pals crew.
---
Recipe of the week - Banana Coffee Smoothie
Not rocket science this week folks. But I honestly could not be faffed with the healthful looking ingredients, I just used what I had in my pantry and fridge. So what I did instead was use cow milk, a banana, a couple of spoons of vanilla yoghurt a double shot of cold espresso, and a spoon of drinking chocolate. IT WAS YUM. I have no idea what the nutritional breakdown was - the nutritionist I work with who writes these recipes has worked it out for this one detailed below, and I'm sure he would drop to his knees in despair if he knew I had absolutely butchered his to be fair, already easy recipe into something else.
Whatevs. My way is nicer. And easier. Suck it up buttercup.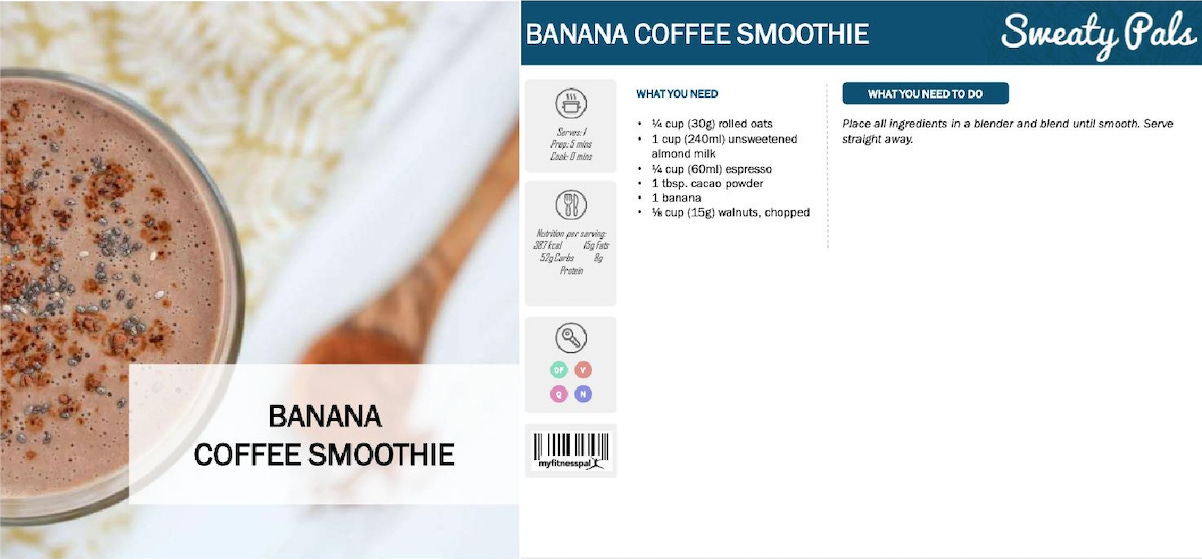 ---
Exercise of the week - the medicine ball slam
Oh my smoky stars, you are in for a treat with this week's exercise. I have taken nearly all of my clients through this one and it is just a snack of an exercise. A SNACK!
I have labelled it the "chuck a tanty" exercise because you can pull all your deep set rage about your boss, your flatmates, your neighbours.. who or whatever is causing you mega eye roll, gather it up. Lift the ball up as high as you can keep your ribs in check, if you go too high without bracing you could hurt your back, and slam it down. Squat to pick it up and do it again. And again. And keep going till all the rage is gone, or 10-12 reps whichever comes sooner. This is a core exercise, it's also good for hips, glutes, quads, hams, ankle joints, shoulders.. everything. Go on. Give it a try. But just check whether your ball is a bouncy ball or a heavy thud ball. The bouncy ball isn't the best as it can bounce right back and hit you in the face. This video is from Molly Galbraith at GGS where I am currently studying.
---
Thanks for reading through my email - Fitness at any size. I really appreciate the time you give to me for this and I hope you get some value from it. If you have any questions you can reply directly to this email or if you've landed here from a link, email lou@sweatypals.nz. You can also follow me on Facebook here, Twitter here, or visit my website Sweaty Pals online here. To subscribe to this email please click the orange button at the top of the page.
Lou xx