Discover more from Lou O'Reilly takes out the trash.
An irregular and mixed bag newsy about how cooked the wellness industry is, and how to keep yourself safe from its hundred billion dollar claws.
Are people looking at you at the gym?
Plus a recipe for Mexican Beef, and the crunch exercise that won't hurt your neck and shoulders...
Yes. Yes they are.
You weren't expecting me to say that, eh.
You thought (maybe) I was going to say "no no, not at all, no one is looking at you, it's totally fine.." and brush your concerns and worries and fears under the rug in an attempt to get you to come to the gym.
Bullshit isn't my style, though.
So yes, people are looking at you, especially if you're a new face at the gym. The looking isn't really the issue that makes most of us nervous though.
It's the what they are thinking, doing, saying about us, that certainly made me worried. It's the smirk, or the laugh that we think is directed at us. I do know how you feel. I'm a plus size trainer among thin bodied trainers. I stick out like a sore thumb. I get it.
Obviously I can't speak for everyone at the gym. But I can speak for me, and my clients, and my friends at the gym. Which is quite a lot of people all exercising at the same time as you.
None of those people, nor me, are judging you. None are laughing at you. We're all at the gym for a purpose and that is to exercise. Sometimes, some of us are taking inspiration from the exercises you are doing and will add them to our own workout.
But no one is there to judge. If you catch someone looking at you, give them an East Coast Wave.
---
Recipe of the week - Mexican Beef Mince
I really need to stop saying "of the week" because I send this email out mostly twice a week. Can't really say "recipe of the half a week" though. Ugh. This is what is taking up space in my brain, folks. Anyway. Today's recipe is Mexican Beef Mince. I have made this and it was yum and my kids sort of ate it, so that's good. You can chuck it on toast if you want, or a fancy bit of ciabatta. Personally I think ciabatta can get in the bin. But you do you. I added nacho chips on the side and then melted some cheese over it and it was pretty nice.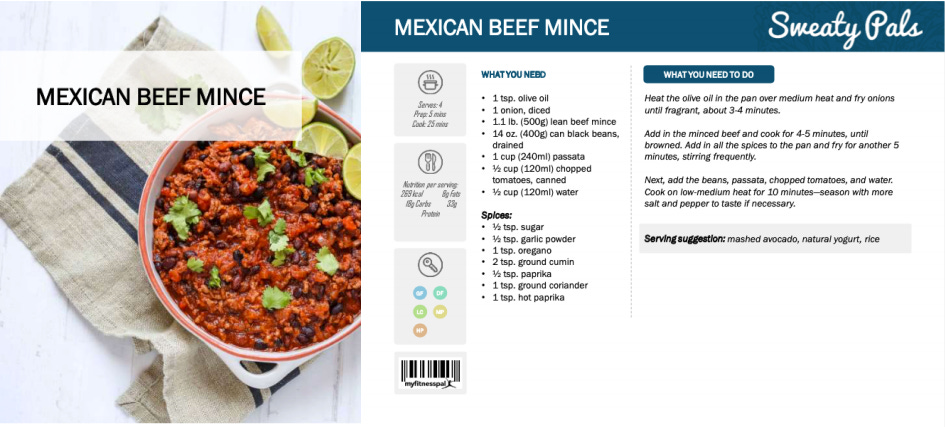 ---
Exercise of the week - toe tap crunches
Last week we did the deadlift, and then after that I showed you three exercises to do to help you to get better at deadlifts. Today I want to talk about crunches/sit-ups. Most people who are new to fitness and exercising, might attempt a crunch or a sit up and for the most part could be ok until the almost inevitable pain in the neck and shoulders arrives. Ugh!
My own personal trainer Roger Betham (Betham Fitness) is an absolute legend as when I trained with him on Monday he said to me "Lou, we're going to do crunches" and I groaned because all I get out of crunches is the pain in the neck and shoulders. And so he said "nah not regular crunches, today we'll do toe taps" and so we did and I got all the engagement in my abdominals, and none of the pain in my shoulders and neck, and frankly, if you get the neck pain, you need to try this type of crunch. Legs in the air means you're already half way to engaging those abs. Give it a try - you don't have to be able to actually touch your toes, just reach up in that general direction.
Engagement means use. When you hear the phrase "engage your abs" it just means to use your abdominals. Also known as squeezing your abs, or bracing them.
---
As always, thank you!
Thank you for supporting my work by reading, subscribing, and sharing. If you have a question about exercise or nutrition, please reply to this email or send to lou@sweatypals.nz. Please stop by my website here, too.
Till next time,
Lou xx