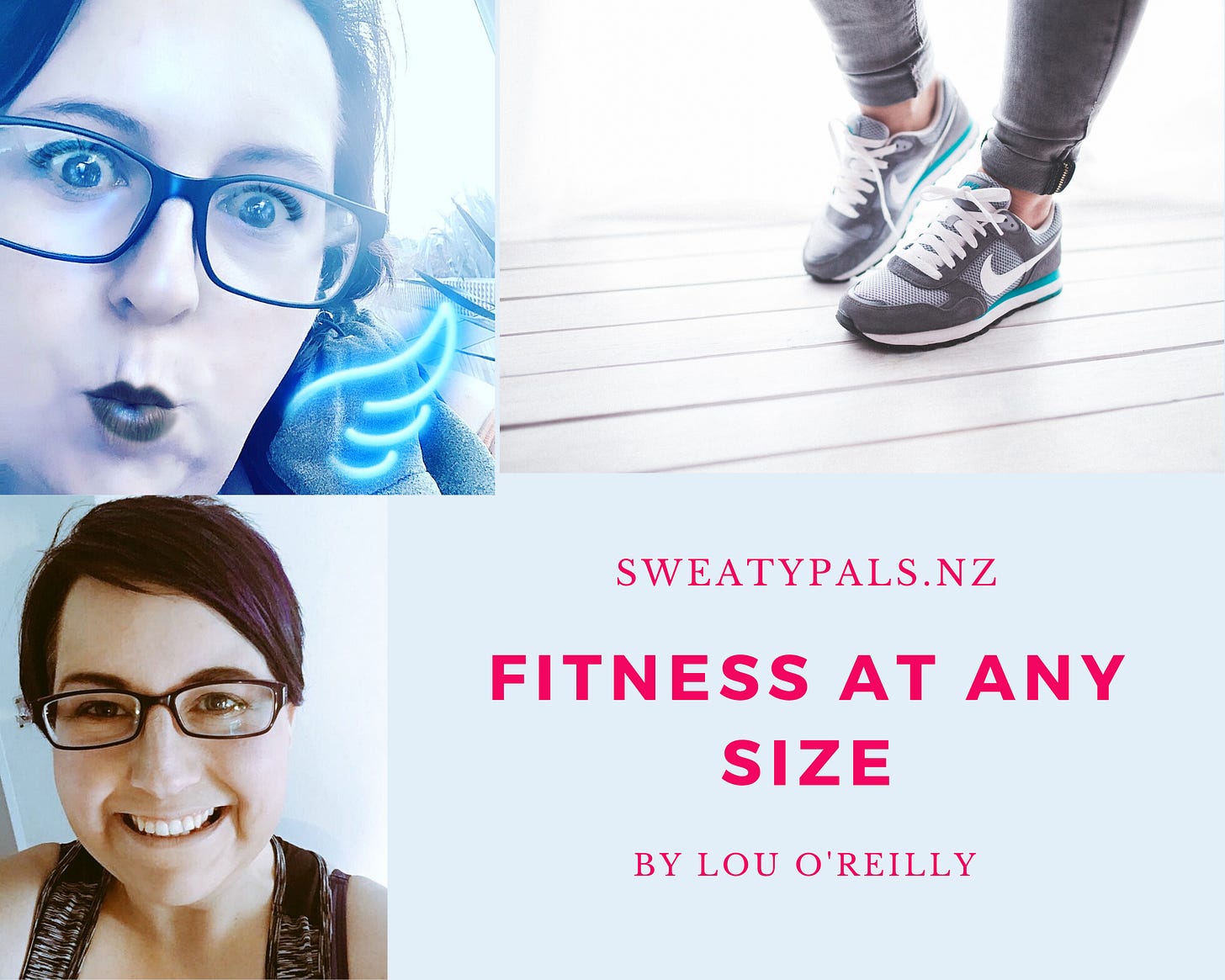 Oh hi there,
Welcome to Fitness at any Size. This is an email newsletter about non-diet, size-inclusive fitness for beginners.
As a registered personal trainer, I will be sharing everything I know about fitness for beginners of all sizes, food and recipes, and practice based habits. All of it is based on my lived experience, and that of my study and training at NASM, Precision Nutrition, GGS, and more.
How it works
I will write once or twice per week, and as a subscriber you will get my emails straight to your inbox. If you don't want to subscribe, you can just bookmark the link https://sweatypals.substack.com/ and check back whenever you feel the urge. But I'm hoping getting an email about a subject matter you're might be mildly interested in might be ok? Give it a go and see.
Fitness things
I am a registered and certified personal trainer, and nutrition coach. I have lived experience of being a range of different body shapes and sizes, and I know what it's like to have to start all over again and get back up on the wagon - so many times!
My clients that work with me directly are advised to check with their medical professional to clear them for exercise. If you have not exercised in a while or at all, I strongly recommend you approach your GP or similar health care professional to make sure your numbers are good to get moving.
Getting in touch
I'd love to hear from you, especially if you think I can help you get started with fitness and eating well. You can reach me easily via email lou@sweatypals.nz or by replying to an email from the newsletter in your inbox, and once a month I will post an FAQ on all things size-inclusive fitness.
Lou xx
---
People
Lou Draper O'Reilly
Nutrition coach and certified personal trainer in Wellington. Carb enabler. I like food. A lot. #sweatypals (Also PR flack at Draper Cormack Group)